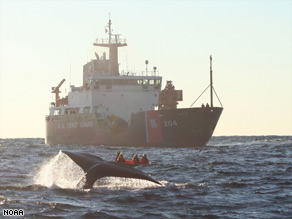 CNN today has a story
on the plight of the right whales. They are called "right whales" because whalers thought the whales were the "right" ones to hunt, as they float when killed and often swim within sight of the shore. Although hunting was banned in 1935 the species has not yet recovered.
A measure aimed at protecting them, by requiring commercial ships to slow down to 10 knots inside a 30-mile "bubble" near ports when these whales are migrating, is currently stalled in bureaucracy.
"We think that more animals are being killed than are being born, and there are a couple of main sources of human-caused mortality that we are trying to reduce," said Jim Lecky, director of the Office of Protected Resources at the National Marine Fisheries Service (NMFS).

The World Shipping Council, an industry group representing more than two dozen global shipping companies, filed documents with the U.S. federal government opposing the speed limits saying the change would cause "significant economic costs."
The group even suggested that if large ships went faster through the whales' habitat, the chance of a collision would be lower.

In response to the group's theory, NOAA's Lecky said: "Would you speed through a school zone?"